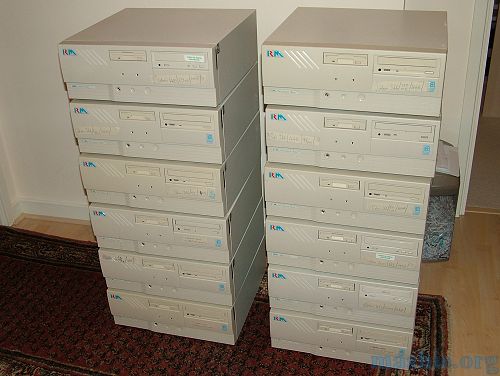 So nine systems, nothing fancy needed really. The minimum specification on the list I got was:

CPU: 200MHz
RAM: 64MB
HDD: 1GB
PCI slots: 4
Integrated video or able to run without videocard installed.

The best place to find cheap old specification hardware is and will always be eBay. After winning two auctions with six computers each I ended up with this pile of 12 very heavy units. The hardware in nine of them did fit the bill with Celeron 366MHz, 64MB RAM, 4.3GB HDD, MicroStar 6117 motherboards (AGP, 5 PCI) as well as 140W PSUs. The other three will be sold on to another friend since I won't need them.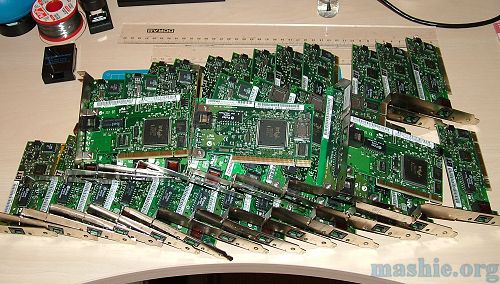 Another auction brought me 33 Intel Pro/100 NICs.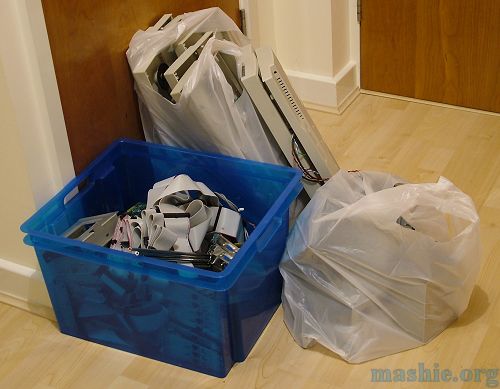 Two evenings had to be spent extracting the hardware from the cases, not to mention chasing the dust rats with the vacuum cleaner. The blue bucket is filled with hardware to keep such as videocards, soundcards, NICs and IDE cables. The plastic bags contain the plastic parts destined for the bin.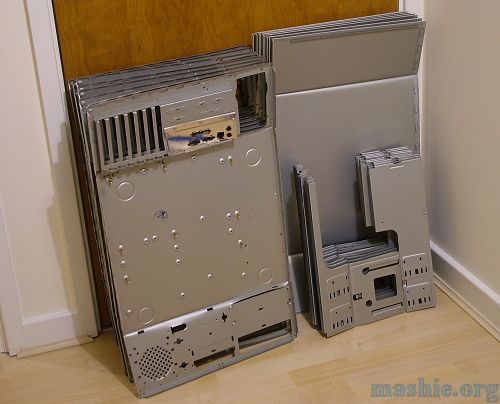 A little bit of jumping and the old cases became flat packs and will meet the bin as well.

The steel is over 1mm so they are very heavy, but then again they were designed to be used in the most rough environment imaginable - public schools.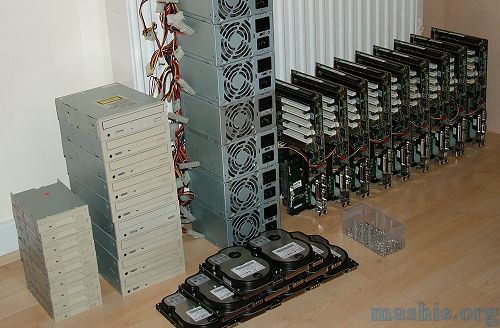 With the disassembly done, this is all that remains.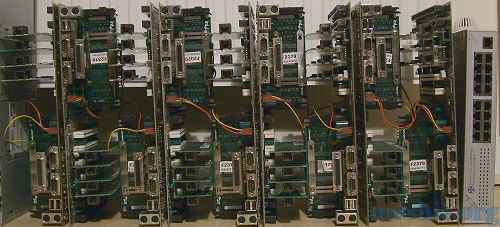 I removed all brackets from the NICs and installed them in the motherboards to test different layouts.

After a few trial and errors this ended up being the most efficient layout, a switch will be included as well to provide management connectivity.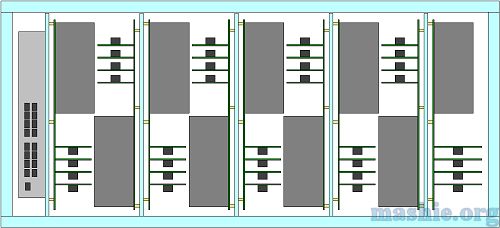 With the general design in the head I quickly draw the whole case in CAD. Each vertical "tray" will hold two motherboards with HDDs and PSUs. Only the motherboard/NICs/CPU are drawn since the HDD and PSU is one layer further back. Each tray is 325mm (12.8") high and 340mm (13.4") deep. The whole unit will be 800mm (31.5") wide, 500mm (19.7") deep and 450mm (17.7") high with casters installed.